I am honestly inspired to work on my blogs for some reasons but what made me smile lately is the achievements i had so far in as far as working with my new sites. I can't believe i have religiously drive traffic to my new sites and at the right time, i knew ill reap a good reward.
So, today ill be joining my usual Friday habit and that's Friday Fill-Ins.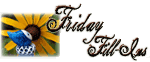 And...here we go!
1. Sniff, sniff...what is
the brand of your new fume?
2.
Are you a boxing
sports fan?,
I am..
.
3. What in the
bag that made you want to bring it all along?
.
4.
The nearest beach here is perfect, it's
peace and quiet.
5. One of my dreams is
to have a complete family of my own
.
6.
They are
so few.
7. And as for the weekend, tonight I'm looking forward to
do some blog hopping
, tomorrow my plans include
cleaning my room
and Sunday, I want to
hear mass
!
I wish to see your footprints here!!