Instead of the creepy posts/pics to share, i more want to give butterflies to my readers. I am simply stunned whenever i saw kids already showing their love affection. Well, i find it rare since i am used with them being just naughty and wild and them being romantic, its outrageous for me. So, one fine day. I found this two little tots on play. I find them having a great time and in just a snap i already saw something weird from this two bundle joy. Are they exclusively seeing each other? Woot...
So, here they are...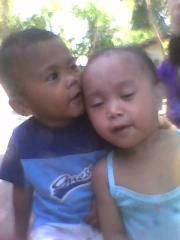 My romantic entry for Wordless Wednesday..
Show me Your Footprints...