Im really not that hardworking, right? This is my ten posts so far and yet here i am joining another meme. I think i just have the energy lately despite all my pending tasks. As i was saying, i need to join the right meme and i love the benefits that i am reaping. So, allow me to introduce my very first entry for...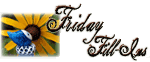 This meme is quite simple, just fill in the blanks so here we go..
1. I love the feeling of sipping my favorite coffee in the morning.
2. Seeing my parents in good terms always brightens my day.
3. Having a man who always stood for me, is what I will remember the most from 2012.
4. My favorite family recipe is sweet and sour fish.
5. When I want to spoil myself I have to visit the nearest mall and get something for myself.
6. Mr Bean is my favorite TV show.
7. And as for the weekend, tonight I'm looking forward to have a night out with my family, tomorrow my plans include visiting the parlor and Sunday, I want to sleep all day!
LInking up to Friday Fill-Ins..